" I do not use Knife Blade Blanks. I hand grind each blade out of a solid bar of steel."
Larry Benoit.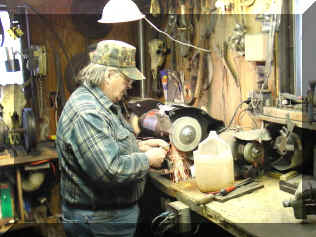 We still have a few of Larry's standard knives for sale!
Larry's standard knives were made of either deer antler or deer hide leather wrapped. Because the knives were made entirely by hand, no two knives are completely alike. All the remaining standard knives are similar to the ones shown below. Depending on the deer antler material on hand at the time the knives were made, some may have a crown on the end of the handle and some may be hand shaped. All knives have Larry's initials LEB and the year in which they were made hand etched on the tang.
This is it folks, when they are gone, they're gone!!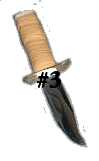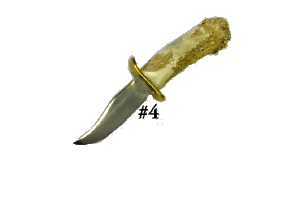 $1295.00
To call in by credit card or if you have a question about price and availability, dial (802)426-4088 10am to 2pm est. and ask for Tim
Custom Knives
We still have a few custom made limited edition knives. And occasionally we will offer them up for sale. These are the real treasures. The prices will range from $1600.00 to $4800.00 depending on the piece.
Click here to see our latest "Treasure."