"I am a tracker, as was my dad. I hunt in the traditional, early American way. I go where no other hunter usually dares to go... deep in the woods and high on the ridges. I search for only the biggest bucks I can find, and I track only the biggest track that I run across." -Larry Benoit

Larry Benoit, tracker of big bucks, caught the nation's attention when a 1970 Sports Afield magazine cover asked the question, Larry Benoit - is he the best deer hunter in America? Many articles followed leaving whitetail enthusiasts requesting more knowledge from this whitetail expert. Larry revolutionized the lost art of tracking deer in his 1975 book, "How To Bag The Biggest Buck Of Your Life". Now out of print, this book is considered by thousands to be the tracker's Bible. In 1998, came the much anticipated second book, Big Bucks The Benoit Way.
Now for the first time, Larry and his three sons Lanny, Lane and Shane Benoit are filmed in this informative how to hunting video. You'll follow these legendary hunters as they track huge northern whitetails with weights close to 300 pounds! You'll go on hunts with each of the Benoits and learn their techniques on taking trophy deer. Five northern whitetails are taken with explicit kill scenes captured on video. You'll see unguided, unrehearsed, honest whitetail hunting. Each year, the Benoits without fail, take out the biggest deer the area has to offer. The Benoits may well be the most successful deer hunting family in North America.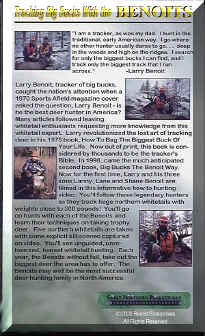 This is number 1 - The original video.
| | |
| --- | --- |
| Benoit 1 Tracking big bucks with the Benoits | $24.95 |