Larry Benoit chosen runner up for
Vermont's Outdoorsman of the century award.
Today's Date -- Sunday-December 5, 1999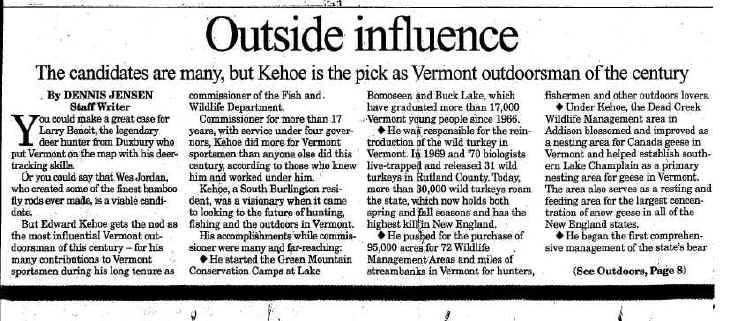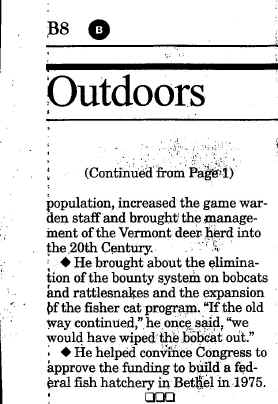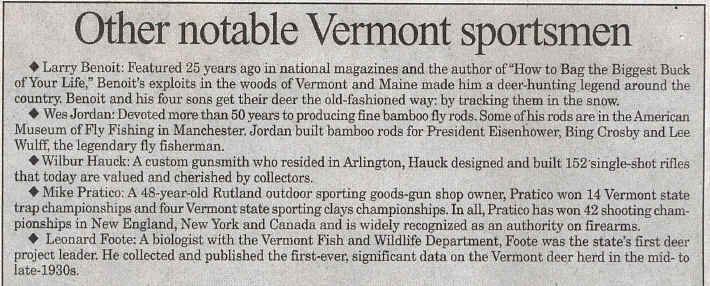 For More Information Contact:

Wilderness Trading & Supply C O.
1401 US RT 2 Marshfield, Vermont. 05658
Tel: 802-426-4088
FAX: 802-426-4089
Internet: wilder@together.net

I'll share a story with you that happened while hunting in November 2000. I was hunting with Lanny, Shane, and Larry Benoit cruising logging roads looking for that monster buck track. We saw a man next to his truck getting ready to hunt; he was looking at us as we drove by. The road soon came to a dead-end so Lanny whipped the truck around and headed back. We were about to pass this guy again. He had on a hat that said Deer & Deer Hunting. As we approached he was giving us another long look. Larry had his window down and the two of them made eye contact. This guy said Larry Benoit!
He rushed to the truck saying Larry Benoit Larry Benoit! We stopped and he introduced himself as Pat Durkin the former Editor of Deer & Deer Hunting Magazine.
Wow, this was amazing because Pat Durkin is not only a huge fan of the Benoits but Pat use to work for Krause Publications. He wrote the forward in the book "Big Bucks the Benoit Way" they had never met before. It's incredible that they met in the woods since Pat lives in Wisconsin and the Benoits live in Vermont. Pat had admired Larry Benoit in the 70's, reading the Sports Afield stories and Larry's 1975 book How Too Bag The Biggest Buck of Your Life. Larry had influenced many hunters all across America. Pat had finely met the Benoits. What a small world!