Blizzard Covers Clear Your Sight With Quality See-Thru Covers

Dependable spring-up covers work on both the ocular (eye) or objective (muzzle) end of your scope. The covers have tabs on both sides of the lid to be easily opened by right or left handed shooters. Blizzard lenses are made from "Optical Grade" polymers that achieve the most complete light transmittance of all see-thru covers.

See-thru protection gives you the ability to make fast, off-hand shots at fleeing game. Always open the covers for long-range shooting.
We use only these because they have been proven "tried and true" and are ideal for the tracker in "jump um out of bed up close" situations.
It's very important to allow the complete spectrum of light to pass through your scope. Do not use reduction filters!

The weatherproof seal and dependable spring system has been tested in a variety of EXTREME weather conditions.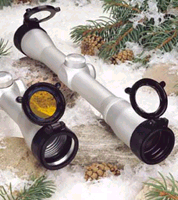 Because of the many sizes of scopes, the covers are sold individually. You must order two separate scope covers to make a set. One front and one rear. They are stretch fit with a .010 tolerance.
Measure diameter of the ocular (eye) end of your scope and match up to the closest size below.
Then, measure diameter of the objective (muzzle) end of your scope and match that to the closest size below.
Blizzard Scope Cover. Size 1

Blizzard See-thru Cover Cover Size: 1.0 - 1.05 inch. Lense Color: Clear Model Size: 1

$12.50
Blizzard Scope Cover. Size 2

Blizzard See-thru Cover Cover Size: 1.3 - 1.39 inch. Lense Color: Clear Model Size: 2

$12.50
Blizzard Scope Cover. Size 3

Blizzard See-thru Cover Cover Size: 1.4 - 1.49 inch. Lense Color: Clear Model Size: 3

$12.50
Blizzard Scope Cover. Size 4

Blizzard See-thru Cover Cover Size: 1.5 - 1.59 inch. Lense Color: Clear Model Size: 4

$12.50
Blizzard Scope Cover. Size 5

Blizzard See-thru Cover Cover Size: 1.6 - 1.69 inch. Lense Color: Clear Model Size: 5

$12.50
Blizzard Scope Cover. Size 6

Blizzard See-thru Cover Cover Size: 1.7 - 1.79 inch. Lense Color: Clear Model Size: 6

$12.50
Blizzard Scope Cover. Size 7

Blizzard See-thru Cover Cover Size: 1.8 - 1.89 inch. Lense Color: Clear Model Size: 7

$12.50
Blizzard Scope Cover. Size 8

Blizzard See-thru Cover Cover Size: 1.9 - 1.99 inch. Lense Color: Clear Model Size: 8

$12.50
Blizzard Scope Cover. Size 9

Blizzard See-thru Cover Cover Size: 2.0 - 2.10 inch. Lense Color: Clear Model Size: 9

$12.50
Blizzard Scope Cover. Size 10

Blizzard See-thru Cover Cover Size: 2.3 - 2.40 inch. Lense Color: Clear Model Size:10

$12.50
Blizzard Scope Cover. Size 11

Blizzard See-thru Cover Cover Size: 2.43 - 2.50 inch. Lense Color: Clear Model Size:11

$12.50