This is a must have treasure for every true Whitetail Deer Hunter ! This book is packed full of pictures taken out in the woods on actual hunts showing the different sign that the whitetail leaves and how to read and understand it.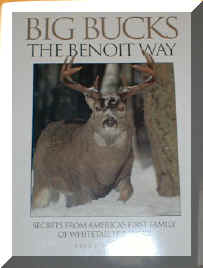 Chapters Include:
Chapter 1: The first family of deer hunting.
Chapter 2: Following trophy bucks.
Chapter 3: Footprints in the snow.
Chapter 4: Reading, Identifying, and understanding tracks.
Chapter 5: On the trail.
Chapter 6: The end game.
Chapter 7: Bare-Ground Hunting
Chapter 8: Bad weather bucks.
Chapter 9: Hunting with the Benoits-A lesson in deer hunting.
Chapter 10: Equipment-What works, What dosen't.
Chapter 11: Off the norris branch.
Chapter 12: Tips, Techniques, and Tactics.
Chapter 13: This and That.
Chapter 14: The End.
No longer available !! -- -- Out of print !!
Wilderness Trading and Supply Co.
Main St. Starch Factory. PO box 246
Marshfield, Vermont. 05658-0246

To call in for the book by credit card, dial (802) 426-4088