Remington 7600 Larry Benoit Commemorative Carbine. ( 1 of 170 ) This gun was built by Remington in 1999 and is one of only 170 made, and as a result of such a small amount produced, were sold out very quickly. Originally 1000 of these carbines were to be issued, however only 170 were issued at Larry,s request to insure that this edition would become very rare and limited. These guns were made to the exact specifications of Larry Benoit and especially serial numbered beginning with Larry,s initials "LEB".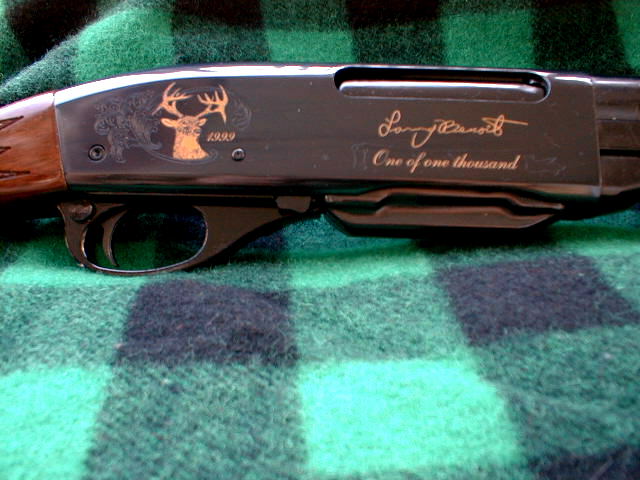 Actual photo of the right side of the receiver on the 1999 gun.
Although the receiver is stamped " ONE OF ONE THOUSAND ", only a total of 170 were manufactured. The left side of the receiver has the standard Remington roll engraved game scenes and the serial number of the gun. The right side of the receiver on this gun have the words:
" One of One Thousand " and the year 1999 or 2000 depending upon when it was made is on the receiver in gold.
Serial numbers LEB0001 to LEB0109 were made in 1999 and have the year 1999 on the receiver. LEB0110 thru LEB0170 were made in the year 2000 and have the year 2000 on the receiver.
A Head Mount of "THE BIGGEST BUCK OF LARRY'S LIFE"
is also etched on the right side of the receiver and inlayed in Gold. And Larry,s signature is engraved and inlayed in gold.
Continue for current price and availability.