I am a Tracker.
I am a Tracker, as was my Dad, and my Indian forebears. I hunt in the traditional, early American way. I go where no other hunter usually dares to go - deep in the woods and high on the ridges. I am in pursuit of The Biggest Buck of my Life.
Larry Benoit
I am a Tracker is the premier issue of the first ever collectible coin series featuring the timeless hunting tips of the famous Whitetail Legend, Larry Benoit.
I am a Tracker starts off as the first, in a complete 12 issue hunting tip coin series. This is a first edition, and is limited to a quantity of 1000. Each issue will consist of one gold plated coin, one silver plated coin, and a coin folder to keep them in. Behind each coin in the folder will be a short sentence, tip, or trick from Larry, out of the rare and highly sought after original book, "How to Bag the Biggest Buck of Your Life" .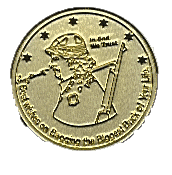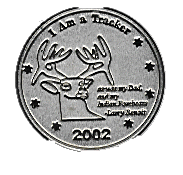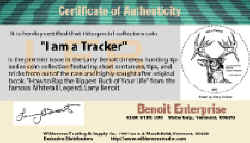 Face of Gold Coin Back of Silver Coin Certificate of authenticity
Coins are approximately the size of a silver dollar !
How are they made?
| | |
| --- | --- |
| | First, a die is is designed and cut to the image like pictured above. |
| | Second, the image is stamped on a sheet of copper. Copper is a softer metal and allows a sharper image. |
| | Third, the coins are cut out to the diameter of a Silver Dollar.(1-1/2") |
| | Plating is done next: We will be doing some in Gold and some in Silver. |
The raised metal surfaces are then highly polished to a Gleaming luster finish, while recessed areas will have a matte finish.

The coins will be offered individually, or one each (Gold and Silver) in their own presentation coin folder.

The price of each coin is as follows:

| | |
| --- | --- |
| | Silver plated (coin only-No Folder.) $24.95 plus s/h. Click here |
| | Gold plated (coin only-No Folder.) $34.95 plus s/h. to view |
| | Coin Folder with one silver coin and one gold coin $69.95 plus s/h. coin folder----> |
A copy of the "Certificate of authenticity" with Larry's signature of approval will accompany each coin.
We're hearing the comments already; "I'm going to get a few while I have the chance. A couple to put away for investment, one each for my hunting buddies and one to carry in the woods this fall."
Where can you get a better Good Luck Piece than this ?
You saw what happened to the commemorative Rifle. The value sky rocked from the $1000.00 issue price to over $7000.00 in less than two years.
Like the Commemorative Rifle, these coins are also a limited edition and will be cherished for years to come. When they are all gone and no more available, Up they Go !!
Don't miss out on this chance !! Available NOW! for Immediate Delivery!
| | | |
| --- | --- | --- |
| | Larry Benoit Collectors Silver Coin | $24.95 |
| | | |
| --- | --- | --- |
| | Larry Benoit Collectors Gold Coin | $34.95 |
| | | |
| --- | --- | --- |
| | Larry Benoit Collectors Coin Folder | $69.95 |